We are a full service dealership in Snyder Chevrolet and are interested in providing you service for your Business use vehicles. We can service and maintain any GM truck or car.
You Now Qualify For The GM Small Business Fleet Program
From 1 to 21 Vehicles, No Minimum
Fleet and Commercial prices for your small business and employees
Save Hundreds EVEN Thousands of Dollars on any Vehicle. There's no need to negotiate, vehicle can be used for work or personal use.
Get your firm quote and savings directly from our Fleet Department on the vehicle you want. Choose the model, color, options and accessories and quickly find out the price and payment. We can also evaluate your trade-in for you.
Plus:
Get any applicable GM Rebate Low Interest Rates and Customer Finance Plans Vehicle delivered to home or office. Special pricing on GM Certified Used Cars and Trucks, Discount pricing on Extended Warranties, 15% OFF on Service and Parts on your vehicle Free and or reduced cost on Bed Liners, Toolboxes and Upfitters packages through GM Business Choice Program.
For More Information, Please Call our Fleet and Commercial Manager.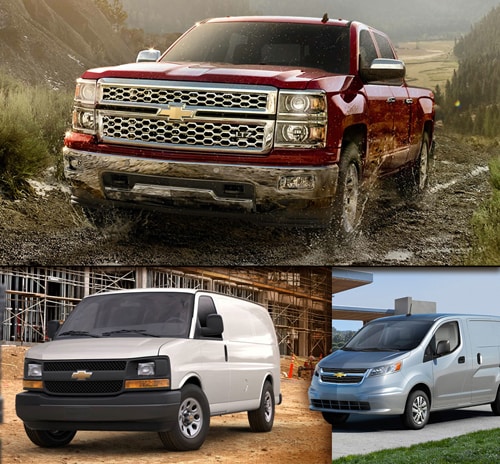 VISIT THE GM